Chinese Date (JuJube)
Trees are grown in pots. Medium 2 to 3 feet tall $35.00;
Large 4 to 5 feet tall $45.00 - GRAFTED. Zones 5-9
Known as Dai Chu in Korean. A small tree and shrub up to thirty feet tall that bears edible fruit, which are cherry to plumb size and very sweet. Can be eaten fresh, dried or used in place of raisins and cooked into sauces.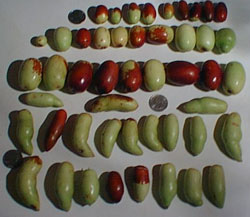 Jujube
Li - Large rounded fruit 1 1/2 inch long, 1 inch in diameter, and up to 3 ounces. Best eaten fresh, ripens in Aug.

Lang - Large fruit, pear shaped, fruit is red when ripe. Best when dried and made into jujube butter. It can be eaten fresh when red ripe or can be substituted for apples in pies and is extremely productive.


Click here to enlarge pictures.

| | |
| --- | --- |
| Lang Fruit | Lang Tree |

Sugar Cane - Medium fruit which can be round to elongated. Extremely sweet fruit but on a thorny plant. The fruit is worthy of the thorns!

So - Dwarf trees with a zig-zag pattern growth structure It makes a great specimen tree and conversation piece. Fruit is very large and round with a crisp apple-like flavor. It ripens in September and is one of our favorite jujubes to consume fresh.